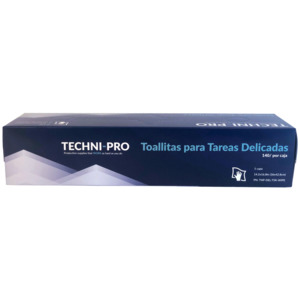 | Qty: | Price: | Savings |
| --- | --- | --- |
| 1 | $8.50 | |
| 20 | $8.33 | Save 2% |
| 50 | $8.08 | Save 5% |
| 100 | $7.65 | Save 10% |
Description

Specifications

Documents
Our products under the brands Techni-Tool, Tec-Cut, Techni-Stat, and many others have merged to one brand, Techni-PRO. All the product specifications and functionality remain the same.

Industries: Medical, Technology, Optical
Applications: High-performance wiping of surfaces, parts, Instruments and cleaning lenses
Anti-stat dispensing reduces lint and electrostatic discharge and controls usage
Techni-Pro's specialty task wipes are ideal for light duty cleaning on sensitive surfaces such as optical glass and lenses.
These virtually lint-free wipes are inter-folded and boxed with a poly-film layer for always-clean, one-at-a-time dispensing.
It can also clean test tubes, electronics, computer screens, tablets and much more.
Container Type: 
Pop-up Box
Package Quantity: 
140 Per Pkg.
| Qty: | Price: | Savings |
| --- | --- | --- |
| 1 | $8.50 | |
| 20 | $8.33 | Save 2% |
| 50 | $8.08 | Save 5% |
| 100 | $7.65 | Save 10% |