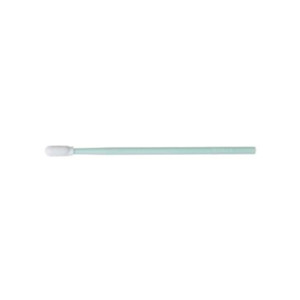 | Qty: | Price: | Savings |
| --- | --- | --- |
| 1 | $68.55 | |
| 5 | $67.18 | Save 2% |
| 25 | $65.81 | Save 4% |
| 50 | $63.75 | Save 7% |
Description

Specifications

Documents
Double layer of polyester knit fabric for enhanced absorbency

Engineered to resist snagging and abrading, preventing the release of particles and fibers

Excellent chemical compatibility with a variety of solutions

100% virgin polypropylene handle ensures no additional contaminants are introduced while offering excellent chemical resistance

Cleanroom laundered, providing ultra-low levels of particles, NVRs, and ions

Trademarked light-green colored handles with "TEXWIPE" name embossed on handle

Autoclave safe in dry heat and steam
Product Specs:
Inner Bags: 500 swabs/bag (5 inner bags of 100 swabs). Outer Bags: 5 bags/case. Materials: 2,500 swabs total
Texwipe's Alpha® TX754B Mini Cleanroom Swab is constructed from 100% polyester knit material. Complete thermal bond construction eliminates adhesive contamination.

Cleanroom manufactured, providing low levels of Non-Volatile Residues (NVRs) and ions, and made to exacting and consistent tolerances using high-precision automated processes.

Lot coded for traceability and quality control. Packaged in a silicone-free and amide-free bag.

Applications: 
Cleaning sensitive surfaces such as optical assemblies. Solvent use (such as IPA). Cleaning of grooves, tracks, slots and other small spaces. Appropriate for use with temperatures less than 410°F
| Qty: | Price: | Savings |
| --- | --- | --- |
| 1 | $68.55 | |
| 5 | $67.18 | Save 2% |
| 25 | $65.81 | Save 4% |
| 50 | $63.75 | Save 7% |