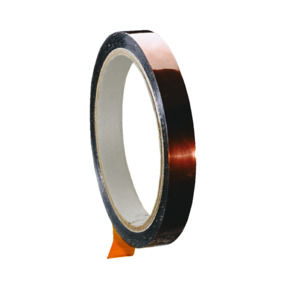 | Qty: | Price: | Savings |
| --- | --- | --- |
| 1 | $10.47 | |
| 10 | $10.26 | Save 2% |
| 30 | $9.95 | Save 5% |
| 100 | $9.63 | Save 8% |
Description

Specifications

Documents
Our products under the brands Techni-Tool, Tec-Cut, Techni-Stat, and many others have merged to one brand, Techni-PRO. All the product specifications and functionality remain the same.
Anti-static treated polyimide backing and silicone adhesive:
Offers outstanding thermal resistance
Provides excellent electrical insulating properties
Designed to minimize the effect of static during:
Stripping and peeling processes
Acting as a mask for printed circuit boards during wave solder or solder dip processes
Serving as a release surface in the fabrication of parts cured at elevated temperatures
Used in applications where toughness, puncture resistance, and extreme resistance to heat are required.
Backing Material: 
Polyimide
Dielectric Strength: 
7500 V
Temperature: 
Up to 500 F (260 C)
| Qty: | Price: | Savings |
| --- | --- | --- |
| 1 | $10.47 | |
| 10 | $10.26 | Save 2% |
| 30 | $9.95 | Save 5% |
| 100 | $9.63 | Save 8% |