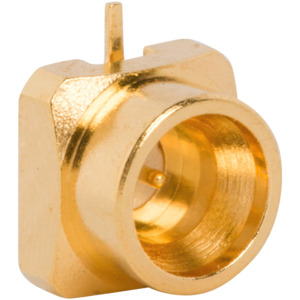 | Qty: | Price: | Savings |
| --- | --- | --- |
| 1 | $11.92 | |
| 200 | $11.68 | Save 2% |
| 500 | $11.32 | Save 5% |
| 1000 | $11.09 | Save 7% |
Description

Specifications

Documents
SMPM Connectors
Features and Benefits:
Small package size
Push-on and snap-on mating styles for quick installation
Designs available for board-to-board and cable-to-board configurations
The SMPM interface is a micro-miniature interface with a frequency range of DC to 65 GHz. It is commonly used in miniaturized high frequency coaxial modules and is offered in both push-on and snap-on mating styles.
The full detent and smooth bore mating systems provide respective levels of engagement/disengagement forces. This family of interconnects addresses small package design needs; it can be utilized as a highly shielded interconnect for high data rate applications or in a board-to-board system using a floating bullet adapter. This floating bullet provides a link between mated pairs compensating for both radial and axial misalignment.
Applications:
Antennas
Broadband
Wireless
Military
Instrumentation
Medical
Quantum Computing
Termination Type: 
PCB Surface Mount
| Qty: | Price: | Savings |
| --- | --- | --- |
| 1 | $11.92 | |
| 200 | $11.68 | Save 2% |
| 500 | $11.32 | Save 5% |
| 1000 | $11.09 | Save 7% |