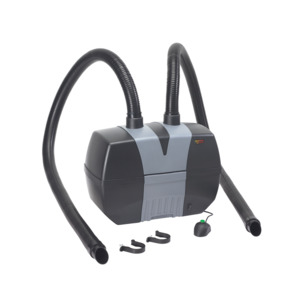 | Qty: | Price: | Savings |
| --- | --- | --- |
| 1 | $990.00 | |
| 2 | $960.30 | Save 3% |
| 3 | $950.40 | Save 4% |
| 5 | $940.50 | Save 5% |
Description

Specifications

Documents
The BVX-201-KIT is a two operator, Pre-HEPA-gas volume extraction system with two arms (BVX-ARM-K1) designed to be used adjacent to the workbenches. Filter unit contains the BVX-201 unit, set of pre-HEPA filters, gas filters, a remote power switch and a set of 2 BVX-ARM-K1 (BVX-ARM 760mm (30") long with 1.8m (6') long hose and table bracket with C-clamps).
New brushless motor, quiet operation
Complete portability; unit can be placed under or next to the bench-top
Fitted with 2x 50mm (2" dia.) arms or 1x 63mm (2.5" dia.) arm
Main filter has a HEPA efficiency of 99.97% at 0.3 micron and an activated carbon filter to remove additional gases
Audible alarm informs operators when filters need replacing
Easy access on/off remote switch
Dimensions: 
20 W x 10 D x 15.3 H"
Voltage Rating: 
100-240 VAC
Filter Type: 
Pre-HEPA Gas
Frequency Rating: 
50/60 Hz
| Qty: | Price: | Savings |
| --- | --- | --- |
| 1 | $990.00 | |
| 2 | $960.30 | Save 3% |
| 3 | $950.40 | Save 4% |
| 5 | $940.50 | Save 5% |