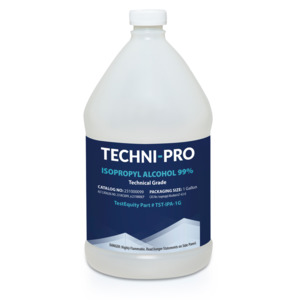 | Qty: | Price: | Savings |
| --- | --- | --- |
| 1 | $31.11 | |
| 10 | $30.18 | Save 3% |
| 20 | $29.55 | Save 5% |
| 50 | $28.00 | Save 10% |
| 100 | $27.38 | Save 12% |
Description

Specifications

Documents
Our products under the brands Techni-Tool, Tec-Cut, Techni-Stat, and many others have merged to one brand, Techni-PRO. All the product specifications and functionality remain the same.
This item is non-returnable
Isopropyl alcohol, also known as rubbing alcohol, is a versatile solvent and cleaning agent commonly used in various industries and applications.
This 99.8% pure anhydrous (containing the least water possible) isopropyl alcohol is excellent for tape head cleaning, defluxing, stencil cleaning, other light cleaning, and as a flux thinner. Avoid "bargain" alcohols for critical electronic cleaning. Cheap alcohols contain much more water, which slows drying and can cause oxidation, while "denatured" alcohols can leave corrosive residues.
Alternate Product Number: 
IPA
| Qty: | Price: | Savings |
| --- | --- | --- |
| 1 | $31.11 | |
| 10 | $30.18 | Save 3% |
| 20 | $29.55 | Save 5% |
| 50 | $28.00 | Save 10% |
| 100 | $27.38 | Save 12% |