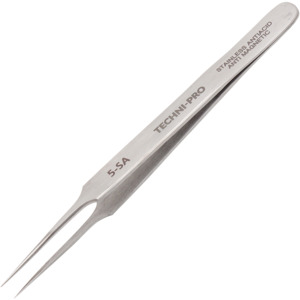 | Qty: | Price: | Savings |
| --- | --- | --- |
| 1 | $4.56 | |
| 10 | $4.47 | Save 2% |
| 30 | $4.33 | Save 5% |
| 100 | $4.20 | Save 8% |
Description

Specifications

Documents
Our products under the brands Techni-Tool, Tec-Cut, Techni-Stat, and many others have merged to one brand, Techni-PRO. All the product specifications and functionality remain the same.

The Techni-Pro 5-SA Straight tapered ultra-fine pointed tweezers is primarily used for microscopy. The style 5 has the finest points available. The overall length is 4.25". It is made of anti-magnetic stainless steel.
For precision work e.g. under a microscope.
Relieved shape facilitates excellent access to the most confined spaces.
Special stainless steel, non-magnetic, non-rusting, acid-proof, heat-resistant.
Material: 
Stainless Steel
| Qty: | Price: | Savings |
| --- | --- | --- |
| 1 | $4.56 | |
| 10 | $4.47 | Save 2% |
| 30 | $4.33 | Save 5% |
| 100 | $4.20 | Save 8% |