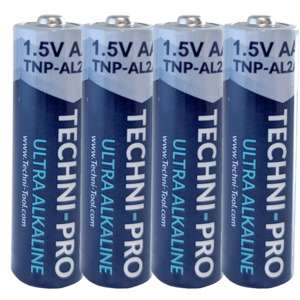 Description

Specifications

Documents
Techni-Pro batteries are engineered for professional equipment – remotes, flashlights, cameras, clocks, wireless devices, toys & more.
Chemical systems: Alkaline Manganese battery, Zinc-manganese dioxide
Nominal voltage: 1.5v
Designation: IEC&GB (China) AL2A
ANSI Number: AA
Storage life of batteries are ten years at 20C +/- 2C and RH 60 +/- 15%.
Tips for battery useage:
Select correct size and grade of battery most suitable for intended use.
Replace all batteries of a set at the same time.
Clean the battery contacts and those of the equipment prior to battery installation.
Remove batteries from equipment which is not in use for an extended period.
Remove exhausted batteries promptly.
Series: 
Ultra Alkaline Series
Type: 
Alkaline Manganese Battery
Special Features: 
Mercury & Cadmium Free