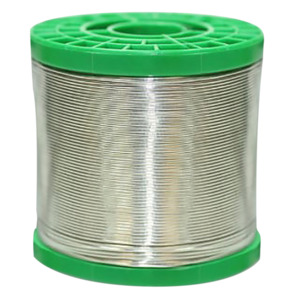 | Qty: | Price: | Savings |
| --- | --- | --- |
| 1 | $68.26 | |
| 10 | $61.43 | Save 10% |
| 30 | $58.02 | Save 15% |
| 50 | $55.97 | Save 18% |
Description

Specifications

Documents
Halogen-free per J-STD-004B
Light-colored, low-smoking, rosin-containing flux
Tested compatibility with Hot Air Solder Leveled (HASL), Immersion Silver, Electroless Nickel Immersion Gold (ENIG), and Organically Solder Preserved (OSP) Copper surfaces
Tested for use with all common lead-free, low- or no-silver lead-free, tin-lead alloys, and many others.
CW-807 is Indium Corporation's best-selling flux-cored wire, primarily because it is compatible with all Indium Corporation no-clean solder pastes, wave fluxes, and all common soft solder alloys. It also solders very well while still meeting the most recent requirements of J-STD-004B type ROL0. CW-807 contains less than 500ppm total halogen, so it can be considered halogen-free by both J-STD-004B and JEITA ET-7304. CW-807 passes the more stringent Surface Insulation Resistance (SIR) and Electromigration (ECM) requirements of J-STD-004 revision B; therefore, the no-clean residue will be electronically safe for virtually all applications. Also when properly configured, cored wire with CW-807 yields superior results in automated soldering operations, including laser soldering.

In the core, CW-807 has a clear, colorless appearance. Upon soldering, CW-807 smokes very little and has a mild, sweet odor. CW-807 contains no added volatile solvents or water absorbent materials to limit spattering. The flux residue is clear and slightly shiny. It typically blends in well with epoxy glass circuit boards and does not detract from the board's appearance.
CW-807 cored wire flux is not only compatible with Indium8.9HF Solder Paste, but also with our 5.2LS, 8.9 series, 92 series, and 10 series products. Indium Corporation determines compatibility primarily by matching flux chemistry. However, a select number of wave, reflow, and rework product combinations have been thoroughly tested to ensure that the combined flux residues meet the electrical and reliability requirements of IPC J-STD-004B.
Alternate Product Number: 
SAC305
Diameter: 
0.032 in (0.81 mm)
Halogen Content: 
Halogen Free
Composition: 
96.5% Tin, 3% Silver, 0.5% Copper
Flux Characteristics: 
No-Clean
| Qty: | Price: | Savings |
| --- | --- | --- |
| 1 | $68.26 | |
| 10 | $61.43 | Save 10% |
| 30 | $58.02 | Save 15% |
| 50 | $55.97 | Save 18% |