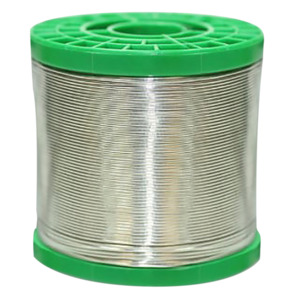 | Qty: | Price: | Savings |
| --- | --- | --- |
| 1 | $65.56 | |
| 10 | $59.00 | Save 10% |
| 30 | $55.73 | Save 15% |
| 50 | $53.76 | Save 18% |
Description

Specifications

Documents
Indium Corporation's Water-Soluble Cored Wire Solder
CW-301 Wire Solder is cored with a high-reliability water-soluble flux that is compatible with Indium Corporation's full line of Pb-free soldering materials. It provides excellent solder spread with minimal smoking and low odor. The fast wetting speed is beneficial in minimizing rework cycle time which is typically longer with Pb-free solders.
Optimized for use with Sn/Pb and Pb-free assembly and rework processes
Excellent cleanability with cold water
Fast and excellent wetting to common Pb-free surface finishes including: ImSn, ENIG, OSP, and ImAg
Minimal spattering and low odor
Resistant to charring
The flux in CW-301 is formulated for use in water-wash assembly processes. The post-soldering flux residue should be removed as soon as possible after soldering. The residue may be readily cleaned in conventional equipment without the use of saponifiers or detergents. It is important that the cleanliness of boards and components are thoroughly checked after soldering and cleaning. Deionized water is recommended for final rinse.
When stored in a cool, dry environment, there is no reason that Indium Corporation's CW-301 cannot retain its intended soldering properties for many years. The main causes of degraded cored wire reflow performance are the buildup of a thick oxide layer on the surface of the wire, caused by prolonged exposure to higher than normal temperature and humidity conditions, or the buildup of lead carbonate on high-lead (>85%) alloy-cored wire shipped or stored under very high humidity conditions.
Alternate Product Number: 
SAC305
Diameter: 
0.032 in (0.81 mm)
Composition: 
96.5% Tin, 3% Silver, 0.5% Copper
Flux Characteristics: 
Water Soluble
| Qty: | Price: | Savings |
| --- | --- | --- |
| 1 | $65.56 | |
| 10 | $59.00 | Save 10% |
| 30 | $55.73 | Save 15% |
| 50 | $53.76 | Save 18% |