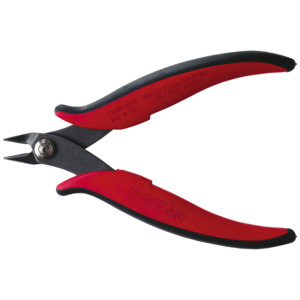 Description

Specifications
Hakko Micro Cutter Key Features:
Steel: 2.5 mm
Cut: Flush
Max cut: 16 AWG
Rockwell Hardness (RHC): 56
The popular CHP-170 precision cutter by Hakko features sharp blades and carefully machined surfaces providing accurate cutting with less force. Dolphin-style grips are slim and lightweight to reduce stress on operator's hands.
Dolphin-style nonslip hand grips with curved fore-edge provide plenty of comfort and control. Parkerized surfaces prevent glare and increase corrosion resistance.
Precision-ground holes and surfaces provide smooth movement, and spring returns tool to the open position to reduce hand fatigue.
*Max cut is determined with copper wire
Alternate Product Number: 
CHP 170, CHP170
Handle Type: 
Dolphin-style Grip
Maximum Cutting Capacity: 
16 AWG