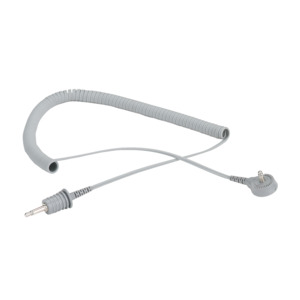 Estimated Mfr lead time:
15 Days
Description

Specifications

Documents
SCS Dual Conductor Cord 2300 Series features a cord construction with a double insulated jacket which improves the cord's durability to repeated flexing and provides for a lighter weight cord. In addition, the "positive" plug grip makes it easy to insert and remove the cord from a remote input jack.

The 3M Dual Conductor Ground Cord is part of a personnel ground monitoring system. The 3M Workstation Monitor product line (Models 724, 725, and 790) uses a dual conductor type wrist strap system consisting of a dual conductor wristband and ground cord. The dual system allows for a monitored loop resistance measurement, which includes the wristband contact to the wearer and a redundant grounding path. If one conductor of the system fails, the other can still function maintaining the grounding of the person. As a result, this prevents static from being generated by the person, eliminating possible damage to static-sensitive electronic components. The series includes cords available in 5, 10, or 20 feet lengths and are compatible with all existing 3M dual conductor fabric, metal, and thermoplastic wristbands.

Type: 
Grounding Cord Only
Estimated Mfr lead time:
15 Days