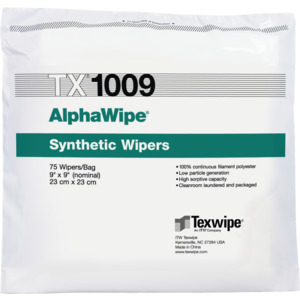 | Qty: | Price: | Savings |
| --- | --- | --- |
| 1 | $43.17 | |
| 10 | $42.31 | Save 2% |
| 30 | $41.87 | Save 3% |
| 50 | $40.58 | Save 6% |
Description

Specifications
Benefits:

Cleanroom laundered and packaged providing ultra-low levels of ions and non-volatile residues.

Excellent chemical resistance for compatibility with a variety of solutions

Meets USP <797> and USP <800> requirements and is autoclave safe
Product Specs:
Inner Bags: 150 wipers/bag (2 inner bags of 75 wipers). Outer Bags: 10 bags/case. Wipers Total: 1,500 wipers total/case
Highly Absorbent Polyester Wipe

AlphaWipe® TX1009 dry cleanroom wipers are made from 100% polyester material with a cut edge and are cleanroom manufactured. The structure allows for a low linting, high absorbency wiper ideal for spill control, cleaning, and solution application. These wipes are designed for use on abrasive surfaces. This wiper will not easily snag or abrade releasing particles and fibers into the process or environment.

Cleanroom Class Rating: 
ISO Class 4 - 8, Class 10 - 100,000, EU Grade A - D
Material: 
100% Polyester Material With A Cut Edge
Wiper Material: 
Polyester
Applications: 
Wiping and cleaning surfaces, equipment and parts. Spill control. Applying and removing lubricants, adhesives, residues and other solutions including disinfectants. Cleaning with solvents such as isopropyl alcohol (IPA), acetone, and degreasers. Cleaning
| Qty: | Price: | Savings |
| --- | --- | --- |
| 1 | $43.17 | |
| 10 | $42.31 | Save 2% |
| 30 | $41.87 | Save 3% |
| 50 | $40.58 | Save 6% |