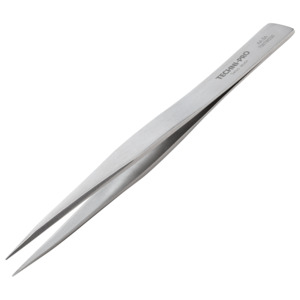 | Qty: | Price: | Savings |
| --- | --- | --- |
| 1 | $24.80 | |
| 10 | $24.30 | Save 2% |
| 25 | $23.93 | Save 4% |
| 50 | $23.56 | Save 5% |
Description

Specifications

Documents
Our products under the brands Techni-Tool, Tec-Cut, Techni-Stat, and many others have merged to one brand, Techni-PRO. All the product specifications and functionality remain the same.
Type AA Boley tweezers are suitable to applications which require holding a component firmly.
AA - Fine points with beveled edges. 5" OAL. Stainless Steel- Anti-magnetic. Resists rust, corrosives, and acids, including hydrochloric acid. Excellent overall quality.
Alternate Product Number: 
AA SA, AA.SA.6
Material: 
Anti-acid, Anti-Magnetic Stainless Steel
Special Features: 
Anti-Mag, Anti Acid
| Qty: | Price: | Savings |
| --- | --- | --- |
| 1 | $24.80 | |
| 10 | $24.30 | Save 2% |
| 25 | $23.93 | Save 4% |
| 50 | $23.56 | Save 5% |