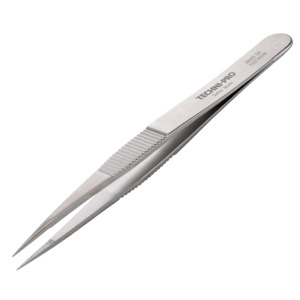 | Qty: | Price: | Savings |
| --- | --- | --- |
| 1 | $30.42 | |
| 10 | $29.81 | Save 2% |
| 25 | $29.36 | Save 4% |
| 50 | $28.90 | Save 5% |
Description

Specifications

Documents
Our products under the brands Techni-Tool, Tec-Cut, Techni-Stat, and many others have merged to one brand, Techni-PRO. All the product specifications and functionality remain the same.
Mini tweezers
Pointed head with fine and precision tips
Line serrated handles and line serrated Tips
Non-magnetic Stainless Steel
Good corrosion resistance to most chemicals, salts and acids
Perfect tip geometry with precision tip symmetry and balance
Non-scratching polished tip edges with no-glare finish
Laser welded tail to grant parallelism and long life
Type M00D Mini tweezers are suitable to delicate applications which require holding a small component firmly. The short body allows a firmer grip combined with greater practicality. The line serration provides the tips and the handles with extra grip, also preventing any possible slips.
M-00D - anti-magnetic, anti-acid stainless steel micro tweezers for micro-electronic assembly. Use where a fine tip is needed without the excess bulk of long tweezers. (Switzerland)
Serrated tips and grips. 3-1/2" OAL.
Alternate Product Number: 
M-00D.SA, M00D.SA.1
Material: 
Anti-acid, Anti-Magnetic Stainless Steel
Special Features: 
Anti-Mag, Anti Acid
| Qty: | Price: | Savings |
| --- | --- | --- |
| 1 | $30.42 | |
| 10 | $29.81 | Save 2% |
| 25 | $29.36 | Save 4% |
| 50 | $28.90 | Save 5% |