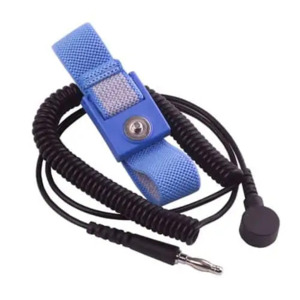 Description

Specifications

Documents
Our products under the brands Techni-Tool, Tec-Cut, Techni-Stat, and many others have merged to one brand, Techni-PRO. All the product specifications and functionality remain the same.

Techni-Pro's wrist band offers a soft, blue woven fabric and a 360° curved buckle of the wrist band which allows the skin to breathe and makes it very comfortable to wear.
The band uses hypoallergenic silver-plated nylon thread for conductivity and has a maximum resistance of 160 ohms. 4mm Snap and 12 ft. coil cord.
Material: 
Conductive weave and stainless back plate
Type: 
Wrist Strap, with Grounding Cord
Wearable Size: 
Adjustable
Closure Type: 
Adjustable Clasp
Cord and Snap Included: 
Yes
Includes Wrist Strap: 
Yes
Compliant Specifications: 
Meets or exceed the requirements of ANSI ESDS20.20 and ESDA Standard 1.1-2006
Wrist Strap and Ground Cord Included: 
Yes