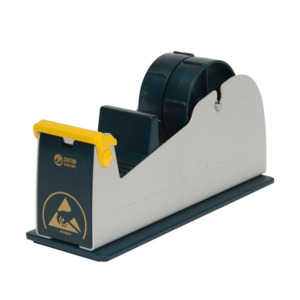 | Qty: | Price: | Savings |
| --- | --- | --- |
| 1 | $58.84 | |
| 10 | $57.07 | Save 3% |
| 30 | $55.31 | Save 6% |
| 100 | $53.54 | Save 9% |
Description

Specifications

Documents
Our products under the brands Techni-Tool, Tec-Cut, Techni-Stat, and many others have merged to one brand, Techni-PRO. All the product specifications and functionality remain the same.
Yellow plastic blade protector
Dissipative body
Slip resistant esd-safe rubber base. Offers two 1″ wide rollers and holds up to two rolls of 1″ tape or one roll of 2″ tape with 3" core.
To move yellow plastic blade protector - grab the yellow plastic with your fingers on each side and pull it away from the tape dispenser. Protector will fold backwards away from the tape exposing the blade. This will allow them to cut the tape with no issues and once they are done they just push the yellow plastic back over the blade to protect it.

Note: 
The unit does not come with a ground cord. The rubber on the bottom of the dispenser acts as the ground and should be placed on grounded work surface.
| Qty: | Price: | Savings |
| --- | --- | --- |
| 1 | $58.84 | |
| 10 | $57.07 | Save 3% |
| 30 | $55.31 | Save 6% |
| 100 | $53.54 | Save 9% |