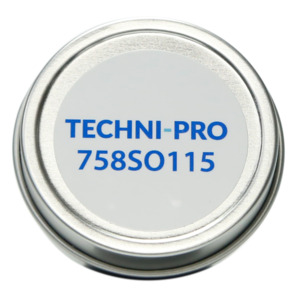 | Qty: | Price: | Savings |
| --- | --- | --- |
| 1 | $15.22 | |
| 20 | $14.92 | Save 2% |
| 50 | $14.46 | Save 5% |
| 100 | $13.70 | Save 10% |
Description

Specifications

Documents
Our products under the brands Techni-Tool, Tec-Cut, Techni-Stat, and many others have merged to one brand, Techni-PRO. All the product specifications and functionality remain the same.
All the major manufacturers of soldering tips have one thing in common, they all recommend that you "Tin Your Soldering Tips".
The Lead-Free Tip Tinner has been formulated to prolong soldering tip life in the harsh environment of No Clean and Water Soluble Fluxes.
Features:
I.C. lead free tip tinner
Tins your soldering iron tips
Has been formulated to prolong soldering tip life
1/2 - 1-1/2 ounce sizes
No halides, residue free, rosin free
Environmentally Safe
Lead Free Solder Compatible: 
Yes
Features: 
No Halides - Residue Free, ESD Safe Lead Free - Rosin Free, Environmentally Safe
| Qty: | Price: | Savings |
| --- | --- | --- |
| 1 | $15.22 | |
| 20 | $14.92 | Save 2% |
| 50 | $14.46 | Save 5% |
| 100 | $13.70 | Save 10% |