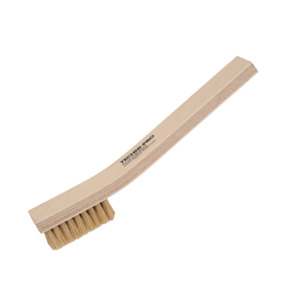 | Qty: | Price: | Savings |
| --- | --- | --- |
| 1 | $11.73 | |
| 10 | $11.50 | Save 2% |
| 50 | $11.14 | Save 5% |
| 100 | $10.56 | Save 10% |
| 200 | $10.32 | Save 12% |
Description

Specifications

Documents
Our products under the brands Techni-Tool, Tec-Cut, Techni-Stat, and many others have merged to one brand, Techni-PRO. All the product specifications and functionality remain the same.
This Techni-Pro scratch brush is a popular larger brush made of anti-static hog bristle with a strong static-neutral plywood handle.
This versatile brush has 4 x 9 rows, with 3/4" trim, and a brush face 2-1/8" x 7/8". Ideal for use as a general utility brush.
Works particularly well for board rework and cleanup, cleaning or roughing and where a stiffer brush is needed.
Use these general purpose brushes in the shop, lab or in the field. Quantity prices available.
A larger brush with a plywood handle and a fill material for any surface.
Works well for cleaning or roughing.
Bristle Material: 
Hog Hair
| Qty: | Price: | Savings |
| --- | --- | --- |
| 1 | $11.73 | |
| 10 | $11.50 | Save 2% |
| 50 | $11.14 | Save 5% |
| 100 | $10.56 | Save 10% |
| 200 | $10.32 | Save 12% |