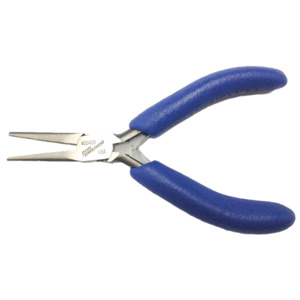 | Qty: | Price: | Savings |
| --- | --- | --- |
| 1 | $35.34 | |
| 10 | $33.57 | Save 5% |
| 30 | $31.81 | Save 10% |
| 50 | $31.10 | Save 12% |
Description

Specifications

Documents
Our products under the brands Techni-Tool, Tec-Cut, Techni-Stat, and many others have merged to one brand, Techni-PRO. All the product specifications and functionality remain the same.
Soft, static dissipative cushion grips
Meets or exceeds US government and ANSI specifications
Lifetime manufacturer's guarantee
4-3/4" long with 1-1/8" scored jaws, are hot drop forged from the finest steel, heat treated, hand sharpened and matched in pairs for maximum durability.
Blue static-dissipative cushion grips and double leaf-springs.
Grips have been changed from blue foam to red foam. No actual tool changes have occurred.
| Qty: | Price: | Savings |
| --- | --- | --- |
| 1 | $35.34 | |
| 10 | $33.57 | Save 5% |
| 30 | $31.81 | Save 10% |
| 50 | $31.10 | Save 12% |