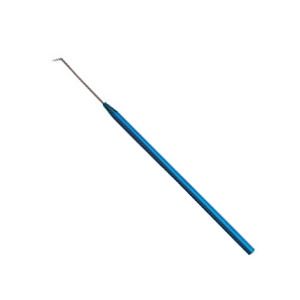 Estimated Mfr lead time:
21 Days
Description

Specifications

Documents
Our products under the brands Techni-Tool, Tec-Cut, Techni-Stat, and many others have merged to one brand, Techni-PRO. All the product specifications and functionality remain the same.
These probes are made with non-rusting, non-contaminating stainless steel tips. They're scalpel-sharp for fine probing and have spring wire tips that are tempered for flexibility. Designed to fit between new or fine pitch through hole, surface mount and BGA devices. These probes have a micro-fine, surgical steel, 10 or 25 MIL pitch tip, on an aluminum handle and are specially designed by Techni-Tool to straighten fine pitch leads, clean and test solder joints and adjust bent leads. Handle length: 4-1/2"; max tip: 1-5/16". (USA) Single and double ended - Stainless steel tip with blue anodized aluminum handle. #6 Single Bend 25 MIL Probe Useful for cold solder probing, hand inspection, micro positioning, lead adjusting.

Estimated Mfr lead time:
21 Days