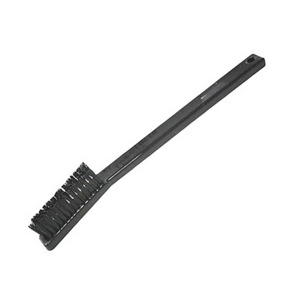 | Qty: | Price: | Savings |
| --- | --- | --- |
| 1 | $2.91 | |
| 20 | $2.85 | Save 2% |
| 50 | $2.76 | Save 5% |
| 100 | $2.62 | Save 10% |
Description

Specifications

Documents
Our products under the brands Techni-Tool, Tec-Cut, Techni-Stat, and many others have merged to one brand, Techni-PRO. All the product specifications and functionality remain the same.
Toothbrush-style brush with plastic handle.
Filled with of 0.010" black Nylon bristle, in a 4 X 14 row configuration, with a 1/2" trim and a brush face of 1-4/5" x 2/5".
Handle length 6-5/8". General all-purpose brush ideal for cleaning small parts.
| Qty: | Price: | Savings |
| --- | --- | --- |
| 1 | $2.91 | |
| 20 | $2.85 | Save 2% |
| 50 | $2.76 | Save 5% |
| 100 | $2.62 | Save 10% |