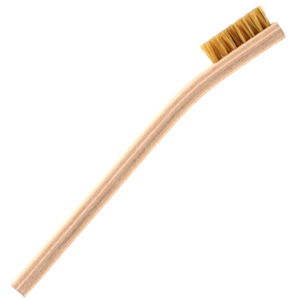 | Qty: | Price: | Savings |
| --- | --- | --- |
| 1 | $3.60 | |
| 20 | $3.53 | Save 2% |
| 50 | $3.42 | Save 5% |
| 100 | $3.24 | Save 10% |
Description

Specifications

Documents
Our products under the brands Techni-Tool, Tec-Cut, Techni-Stat, and many others have merged to one brand, Techni-PRO. All the product specifications and functionality remain the same.
Use these general purpose brushes in the shop, lab or in the field.
All-purpose toothbrush-style, bent for knuckle protection.
This standard tool is the basic brush for every tool kit.
Quantity prices available.
Bristle Material: 
Hog Hair
| Qty: | Price: | Savings |
| --- | --- | --- |
| 1 | $3.60 | |
| 20 | $3.53 | Save 2% |
| 50 | $3.42 | Save 5% |
| 100 | $3.24 | Save 10% |