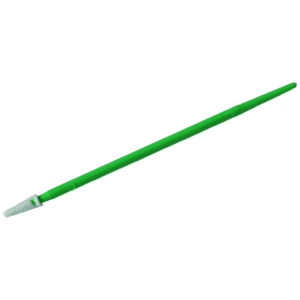 | Qty: | Price: | Savings |
| --- | --- | --- |
| 1 | $13.86 | |
| 10 | $13.58 | Save 2% |
| 50 | $13.17 | Save 5% |
| 100 | $12.47 | Save 10% |
| 200 | $12.20 | Save 12% |
Description

Specifications

Documents
Lint and residue free

Soft and non-abrasive ti

Rigid ESD safe handle protects static sensitive partsVCan be used with IPA and DI water, or dry

Small pointed tip allow for precison cleaning and application

Made in USA Applications

Applying adhesives or other fluxes

Removing particulates and residues

General cleaning

Used in electronic assembly and medical device manufacturing
This foam tipped applicator is produced with reticulated 100ppi foam. It is thermally welded to a static dissipative solid polypropylene shaft.

Our products under the brands Techni-Tool, Tec-Cut, Techni-Stat, and many others have merged to one brand, Techni-PRO. All the product specifications and functionality remain the same.

Cleanroom Class Rating: 
10-100
Package Quantity: 
50 Per Pkg.
Handle Material: 
Static Dissipative Polypropylene
| Qty: | Price: | Savings |
| --- | --- | --- |
| 1 | $13.86 | |
| 10 | $13.58 | Save 2% |
| 50 | $13.17 | Save 5% |
| 100 | $12.47 | Save 10% |
| 200 | $12.20 | Save 12% |