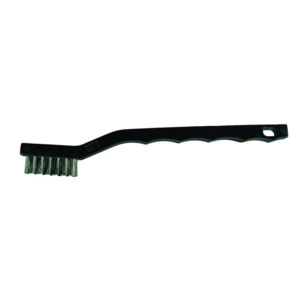 | Qty: | Price: | Savings |
| --- | --- | --- |
| 1 | $1.94 | |
| 20 | $1.90 | Save 2% |
| 50 | $1.84 | Save 5% |
| 100 | $1.75 | Save 10% |
Description

Specifications

Documents
Our products under the brands Techni-Tool, Tec-Cut, Techni-Stat, and many others have merged to one brand, Techni-PRO. All the product specifications and functionality remain the same.
Toothbrush-style scratch brush with a plastic handle designed with a bend for knuckle protection.
Filled with 0.006" stainless steel bristle, in a 3 X 7 row configuration, with a 7/16" trim, and a brush face of 1-3/8" x 1/4". 
Ideal for gently cleaning keyboards and narrow areas.
Bristle Material: 
Stainless Steel
| Qty: | Price: | Savings |
| --- | --- | --- |
| 1 | $1.94 | |
| 20 | $1.90 | Save 2% |
| 50 | $1.84 | Save 5% |
| 100 | $1.75 | Save 10% |