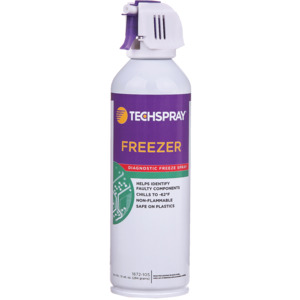 | Qty: | Price: | Savings |
| --- | --- | --- |
| 1 | $21.11 | |
| 12 | $20.69 | Save 2% |
| 36 | $20.05 | Save 5% |
| 100 | $19.00 | Save 10% |
Description

Specifications

Documents
100% HFC-134a
Instantly chills to -62°F
Ozone safe
Leaves no residue
Non-flammable
RoHS compliant
Rapidly evaporating liquid that super-chills isolated areas. Used as a troubleshooting aid for intermittently faulting capacitors, resistors, semiconductors, and other defective components. It also increases visibility of cold solder joints, cracks in printed circuit boards and oxidized junctions.

Operation: 
Always be sure that sprayhead is aimed at surface to be chilled. Allow components to heat up to normal operating temperature or until intermittent fault occurs. Spray suspected component until chilled. Product will freeze small areas. Due to the colder te
Note: 
This item is not subject to a hazardous shipping surcharge if shipping ground.
| Qty: | Price: | Savings |
| --- | --- | --- |
| 1 | $21.11 | |
| 12 | $20.69 | Save 2% |
| 36 | $20.05 | Save 5% |
| 100 | $19.00 | Save 10% |