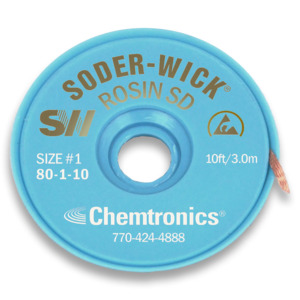 | Qty: | Price: | Savings |
| --- | --- | --- |
| 1 | $8.50 | |
| 10 | $8.29 | Save 2% |
| 50 | $8.08 | Save 5% |
| 100 | $7.65 | Save 10% |
Description

Specifications

Documents
Noncorrosive ultra high purity Type R rosin flux
Minimizes the risk of heat damage to the board
Will not leave ionic contamination on the boards
Soder-Wick Rosin has the fastest wicking action, but rosin flux leaves behind residues that should be removed with a flux remover. Flux-Off Rosin flux remover is an ideal choice for your cleaning process

Soder-Wick brand desoldering wick offers the state of the art in desoldering technology. Soder-Wick is designed for today's heat sensitive electronic components using lighter mass, pure copper braid construction that allows for better thermal conductivity, even at low temperatures. Soder-Wick responds faster than conventional desoldering braids thereby minimizing overheating and preventing PCB damage.

Flux Type: 
Type R Rosin (Ultra High Purity)
Package Quantity: 
1 Per Pkg.
| Qty: | Price: | Savings |
| --- | --- | --- |
| 1 | $8.50 | |
| 10 | $8.29 | Save 2% |
| 50 | $8.08 | Save 5% |
| 100 | $7.65 | Save 10% |