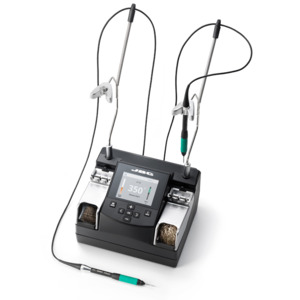 | Qty: | Price: | Savings |
| --- | --- | --- |
| 1 | $1,625.00 | |
| 2 | $1,543.75 | Save 5% |
| 5 | $1,462.50 | Save 10% |
| 10 | $1,430.00 | Save 12% |
Description

Specifications

Documents
The NASE-1C offers new features and is redesigned.
JBC Tools NANE-1C NANO Soldering Station 120V is a complete station kit designed for micro soldering of small-size components like chips 0201, 0402 etc.
The NANE-1C NANO incorporates the exclusive JBC heating system that increases the work efficiency thanks to the fast temperature recovery.
The intelligent sleep and the hibernation feature enable to extend tip's life more than 5 times.
Through the menu you can customize more than 20 functionalities in order to manage the temperature of the component during all phases of the soldering process, thus emulating the heating process in a reflow oven.
It can work with NP115-A Nano Tweezers, NP115-B Adjustable Nano Tweezers, and NT115-A Nano Handle Soldering Irons
The short distance between the tip and the handle offers a maximum control even for repairing applications under a magnifying glass.
Comes With 2 JBC NT115-A Nano Handle Irons. The station comes with 8 soldering tips listed below in a variety pack # 0011568 (The tips come in the new DC-A Cartridge Dispenser Case)

Includes: 
Control Units: NAE with tip cleaning system Tools: NT115-A Nano Handle Cartridges: C115101 , C115103 , C115105 , C115107 , C115112 , C115113
Temperature Range: 
190-840 ºF
| Qty: | Price: | Savings |
| --- | --- | --- |
| 1 | $1,625.00 | |
| 2 | $1,543.75 | Save 5% |
| 5 | $1,462.50 | Save 10% |
| 10 | $1,430.00 | Save 12% |