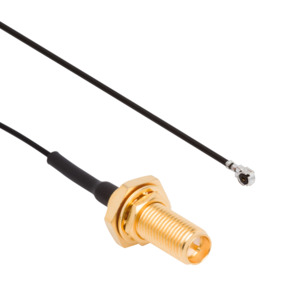 | Qty: | Price: | Savings |
| --- | --- | --- |
| 1 | $27.21 | |
| 100 | $25.85 | Save 5% |
| 200 | $25.03 | Save 8% |
| 500 | $24.49 | Save 10% |
| 1000 | $21.22 | Save 22% |
Description

Specifications

Documents
SMA to AMC Ultraminiature Cable Assemblies
Features and Benefits:
Reliable electrical performance up to 9 GHz
Threaded coupling mechanism for secure mating
Vibration resistant design
Waterproof IP67 options available
Wide variety of configurations and cable types
Reverse polarity versions RP-SMA available
Amphenol RF offers a full line of SMA to AMC fixed length cable assemblies featuring the popular threaded SMA interface and the ultraminiature AMC connector. These assemblies are available in both IP67 and non-IP67 configurations on industry-standard micro-coax cable types. SMA to AMC assemblies are ideal for applications that require a space efficient solution.
SMA to AMC cable assemblies feature a small footprint and low profile and proves reliable electrical performance up to 6 GHz. These 50 ohm assemblies are compatible with the industry-standard U.FL interface for additional mating options.
Non-IP67 assemblies offer a smaller flange and no o-ring seal whereas waterproof IP67 assemblies are designed to offer an extra layer of protection from external elements. Both IP67 and non-IP67 assemblies can accommodate panels up to 6.71 mm and 3.20 mm respectively.
Applications:
Antennas
Base Stations
Drones
Test and Measurement Equipment
Industrial Automation and Inspection
Bluetooth and Cellular technology
WLAN
Cable Length: 
17.72" (450 mm)
Type: 
AMC Cable Assemblies
Standards: 
IP67 Water-Resistant Rating
| Qty: | Price: | Savings |
| --- | --- | --- |
| 1 | $27.21 | |
| 100 | $25.85 | Save 5% |
| 200 | $25.03 | Save 8% |
| 500 | $24.49 | Save 10% |
| 1000 | $21.22 | Save 22% |