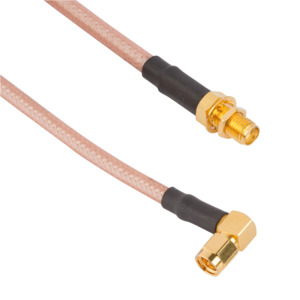 | Qty: | Price: | Savings |
| --- | --- | --- |
| 1 | $37.71 | |
| 100 | $35.82 | Save 5% |
| 200 | $34.69 | Save 8% |
| 500 | $33.94 | Save 10% |
| 1000 | $29.41 | Save 22% |
Description

Specifications

Documents
SMA Cable Assemblies
Features and Benefits:
Tested to ensure there are no opens or shorts
All SMA cable assemblies have a 50-ohm impedance
Max frequency varies by connector/cable selection
Amphenol RF offers a comprehensive selection of both in-series and between-series SMA cable assemblies. In-series SMA cable assemblies feature SMA connectors terminated to both sides of a length of cable. Between-series SMA cable assemblies have an SMA connector terminated to one side of a length of cable with another connector series terminated to the opposite side.
Popular RF connector options include straight and right angle plugs and jacks. Jacks are available with or without panel mounting options. Both rear-mount and front-mount bulkhead configurations exist. Connectors are constructed of brass or stainless steel and feature gold plated or passivated bodies. Between-series SMA cable assembly configurations include SMA to AMC, AMC4, BNC, MCX, MMCX, Type N, RF Probe SMP connector options.
SMA cable assemblies are available with a wide range of cable types including flexible RG cables, low loss cables as well as hand-formable semi-rigid options. Precision test cable assemblies designed with phase stability in mind are also offered.
Cable Length: 
24.00" (610 mm)
Type: 
SMA Cable Assemblies
| Qty: | Price: | Savings |
| --- | --- | --- |
| 1 | $37.71 | |
| 100 | $35.82 | Save 5% |
| 200 | $34.69 | Save 8% |
| 500 | $33.94 | Save 10% |
| 1000 | $29.41 | Save 22% |