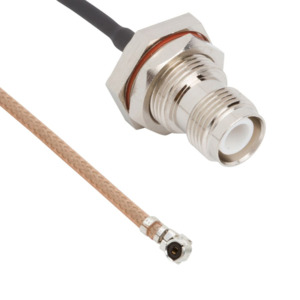 Estimated Mfr lead time:
90 Days
| Qty: | Price: | Savings |
| --- | --- | --- |
| 1 | $14.90 | |
| 100 | $14.30 | Save 4% |
| 200 | $14.01 | Save 6% |
| 500 | $13.71 | Save 8% |
| 1000 | $13.41 | Save 10% |
Description

Specifications

Documents
RF Cable Assemblies
Features and Benefits:
Vary in length from 0.98 inches (25 mm) to 1200 inches (100 ft)
Various configurations in gender, orientation and mounting options
Radio Frequency Coaxial Connectors Are Designed To Connect Printed Circuit Boards (PCBs) And Cables To An External Antenna, Cameras, Sensors Or Other Devices.
RF connectors are commonly seen in wireless applications. Amphenol RF offers a broad variety of RF connector configurations in all industry standard and a number of proprietary interfaces. These connectors are ideal for use across various markets including broadcast, industrial and wireless infrastructure.
AMC, AMC4 and AMMC Series Features:
Amphenol RF ultraminiature product series' (AMC, AMC4 and AMMC) feature low profile PCB connectors with small board footprints. These series utilize the popular snap-on coupling mechanism for secure and easy mating. Cable assemblies are designed using various micro coax and flexible cable types.
RP-TNC Series Features:
Waterproof IP-rated TNC and RP-TNC connectors are designed specifically for use in applications where systems may be compromised through exposure to the elements or external tampering. These products provide strong protection to secure against anything that may compromise system performance.
TNC and RP-TNC connectors operate at 50 ohms and utilize the familiar threaded interface which ensures mating stability and reliable electrical performance.
Cable Length: 
3.94" (100 mm)
Type: 
AMC Cable Assemblies
Estimated Mfr lead time:
90 Days
| Qty: | Price: | Savings |
| --- | --- | --- |
| 1 | $14.90 | |
| 100 | $14.30 | Save 4% |
| 200 | $14.01 | Save 6% |
| 500 | $13.71 | Save 8% |
| 1000 | $13.41 | Save 10% |