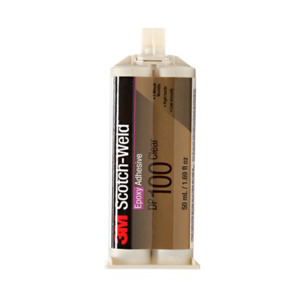 | Qty: | Price: | Savings |
| --- | --- | --- |
| 1 | $33.41 | |
| 5 | $31.41 | Save 6% |
| 10 | $29.40 | Save 12% |
| 25 | $28.40 | Save 15% |
Description

Specifications

Documents
3M™ Scotch-Weld™ Structural Adhesive Duo-Pak delivery system features updates and improvements to its cartridge to help provide better adhesive delivery and results. DP100 NS is a non-sag, two-part epoxy. 1:1 mix ratio, 3-5 minute work life and handling strength in 20 minutes.

Alternate Product Number: 
7100148744
Container Size: 
48.5mL/1.65oz
Container Type: 
Duo-pak Cartridge
Physical Form: 
Viscous/Liquid
Time to Handling Strength: 
20 min.
| Qty: | Price: | Savings |
| --- | --- | --- |
| 1 | $33.41 | |
| 5 | $31.41 | Save 6% |
| 10 | $29.40 | Save 12% |
| 25 | $28.40 | Save 15% |