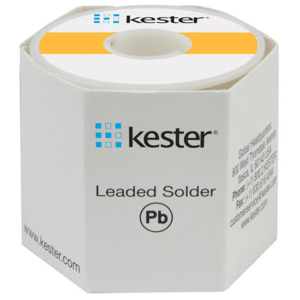 | Qty: | Price: | Savings |
| --- | --- | --- |
| 1 | $43.00 | |
| 5 | $40.42 | Save 6% |
| 10 | $38.70 | Save 10% |
| 25 | $35.26 | Save 18% |
Description

Specifications

Documents
Kester 44 Flux-Cored Wire Product Overview:
Alloy: Sn60Pb40
Core Size: 66
Flux: 3.3%
Kester 44 Rosin Flux is an activated rosin formula for use in flux-cored solder wire. 44 has virtually dominated the field of activated rosin core solders for well over four decades. An outstanding performance feature of this flux is the "instant-action" wetting behavior. The high mobility and fast-spreading action of this flux results in more reliable production line soldering. 44 is classified as ROM1 per J-STD-004.
Performance Characteristics:
High activity RA formulation
Excellent solderability to a wide range of metalizations
Industry standard RA cored wire for decades
Classified as ROM1 per J-STD-004
Cleaning
The 44 series possesses excellent fluxing ability. The flux residues are non-corrosive, non-conductive and do not require removal in most applications under normal conditions of use. IPA will not clean the residues off the surface of the circuit board after the soldering process. If removal is required, a saponifier or cleaning agent specifically designed to clean a no-clean flux is required to clean the residues.
Diameter: 
0.031 in (0.80 mm)
Composition: 
60/40 (60% Tin, 40% Lead)
| Qty: | Price: | Savings |
| --- | --- | --- |
| 1 | $43.00 | |
| 5 | $40.42 | Save 6% |
| 10 | $38.70 | Save 10% |
| 25 | $35.26 | Save 18% |