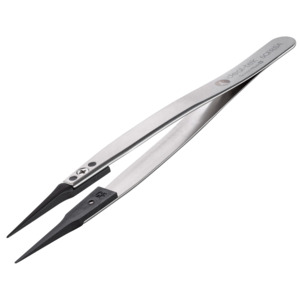 Description

Specifications

Documents
Type 5CF Plastic replaceable tip tweezers are suitable to applications which require holding a small component firmly.
The Carbon Fiber reinforced ESD Plastic provides the tweezers with ESD and non-scratching properties.
Swiss Made durable and self-aligning replacement tips, anti-magnetic stainless steel handles, available with a variety of tip geometries and materials. They are significantly cost-effective as well as excellent for handling sensitive components, for example ceramic and glass parts where non-metallic scratching is critical.

Alternate Product Number: 
5CFR.SA, 5CFR, 5CFR.SA.1
Material: 
Anti-acid, Anti-Magnetic Stainless Steel
Type: 
Plastic Replaceable Tip Tweezers
Handle Material: 
Stainless Steel
Special Features: 
Anti-acid
Tip Material: 
Carbon Fiber
Tip Shape: 
Very Fine, Sharp