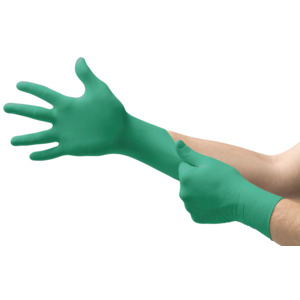 | Qty: | Price: | Savings |
| --- | --- | --- |
| 1 | $17.40 | |
| 10 | $16.88 | Save 3% |
| 20 | $16.53 | Save 5% |
| 50 | $15.66 | Save 10% |
| 100 | $15.31 | Save 12% |
Description

Specifications
Offers three times the puncture resistance of standard latex or vinyl gloves
Combines excellent fingertip sensitivity with exceptional durability
Gives a high level of protection against grease and oil
Silicone-free
Comply with FDA food handling requirements (21 CFR 177.2600)
Disposable gloves are sometimes uncomfortable, but TouchNTuff 92-600 gloves are renowned for their superior comfort and durability. These best-selling teal green nitrile gloves from TouchNTuff are the world's leading disposable gloves for chemical splash protection.
Made with TNT Technology, a proprietary Ansell material formulation, TouchNTuff 92-600 gloves offer superior splash resistance against a wide range of hazardous chemicals. Their thick, 5 mil design makes them robust enough to offer superior durability. And because they're made with a soft, elastic nitrile and are double chlorinated, these 5 mil nitrile gloves have a smooth, comfortable feel.
TouchNTuff 92-600 teal green nitrile gloves are silicone free, so they don't cause fisheyes and defects when handling objects with paints, finishes and coatings. They're also available in small packages that fit vending machines.
Key Features
Proprietary Ansell material formulation offers enhanced chemical splash protection
Soft nitrile provides high levels of comfort
Robust design for superior durability
Silicone free design is paint and finish process friendly
Also available in packaging to fit vending machines
Package Quantity: 
100/Box
Series: 
TouchNTuff Series
| Qty: | Price: | Savings |
| --- | --- | --- |
| 1 | $17.40 | |
| 10 | $16.88 | Save 3% |
| 20 | $16.53 | Save 5% |
| 50 | $15.66 | Save 10% |
| 100 | $15.31 | Save 12% |