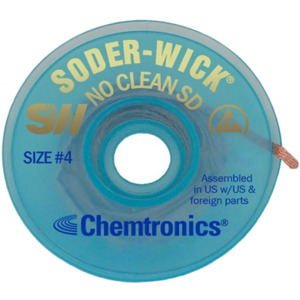 Estimated Mfr lead time:
11 Days
| Qty: | Price: | Savings |
| --- | --- | --- |
| 1 | $11.24 | |
| 10 | $10.96 | Save 2% |
| 50 | $10.68 | Save 5% |
| 100 | $10.12 | Save 10% |
Description

Specifications

Documents
Soder-Wick® No Clean packaged in ESD-safe static dissipative bobbins
Minimizes the risk of damage associated with static electricity
Patented noncorrosive, halide free, organic no-clean flux
Desolders up to 40% faster than competitive no-clean braids and leaves boards cleaner
Meets Bellcore TR-NWT-000078 and ANSI IPC SF-818 for Surface Insulation Resistance

Soder-Wick No Clean desoldering wick is designed to provide fast and safe desoldering without leaving behind harmful flux residues. Soder-Wick No Clean desoldering wick uses pure, oxygen-free copper braid and a patented flux technology to make an efficient and effective desoldering braid.

Soder-Wick brand desoldering wick offers the state of the art in desoldering technology. Soder-Wick is designed for today's heat sensitive electronic components using lighter mass, pure copper braid construction that allows for better thermal conductivity, even at low temperatures. Soder-Wick responds faster than conventional desoldering braids thereby minimizing overheating and preventing PCB damage

Package Quantity: 
1Per Pkg.
Estimated Mfr lead time:
11 Days
| Qty: | Price: | Savings |
| --- | --- | --- |
| 1 | $11.24 | |
| 10 | $10.96 | Save 2% |
| 50 | $10.68 | Save 5% |
| 100 | $10.12 | Save 10% |