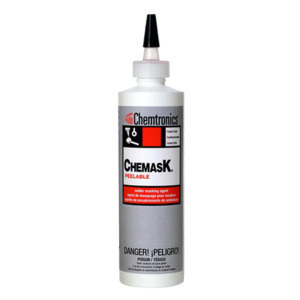 | Qty: | Price: | Savings |
| --- | --- | --- |
| 1 | $23.48 | |
| 10 | $22.31 | Save 5% |
| 30 | $21.60 | Save 8% |
| 50 | $21.13 | Save 10% |
Description

Specifications

Documents
Prevents solder from flowing onto contacts, terminals, plated through-holes, etc. during wave soldering. Protects delicate components and prevents contamination during assembly operations. Withstands 515°F (268°C) long enough for wave soldering process. Compatible with all flux systems and cleaning solvents. Dries tack-free in 30 minutes and leaves no residue. Easily removed by hand using tweezers or brush. Can be applied by dip, brush or squeeze bottle. Available in 8 oz. squeeze bottle.

Container Type: 
Squeeze Bottle
Lead Free Solder Compatible: 
No
Cure Time: 
Full @ Room Temp 30 min.
Withstand Temperature: 
515°F
Surface Type: 
Not Recommended For Sensitive Metals
| Qty: | Price: | Savings |
| --- | --- | --- |
| 1 | $23.48 | |
| 10 | $22.31 | Save 5% |
| 30 | $21.60 | Save 8% |
| 50 | $21.13 | Save 10% |