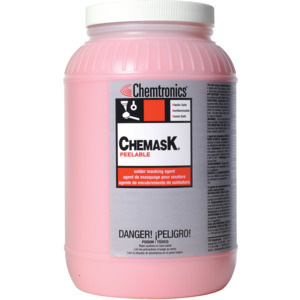 | Qty: | Price: | Savings |
| --- | --- | --- |
| 1 | $228.05 | |
| 5 | $221.21 | Save 3% |
| 10 | $214.37 | Save 6% |
| 30 | $200.68 | Save 12% |
Description

Specifications

Documents
Dries tack-free in 30 minutes
Easy to use — just peel off dried Chemask® masking agent
Latex material is compatible with flux systems and stable with cleaning solvents
Natural latex has superior strength and elongation; can stretch to five times cured length without breaking
Chemask® is a fast curing peelable solder masking agent. It contains natural latex formulated with high temperature resistant compounds that protect component-free areas during wave soldering. Chemask® may be used to protect pins, posts, contacts and edge connections during conformal coating processes.

Lead Free Solder Compatible: 
No
Cure Time: 
Full @ Room Temp 30 min.
Withstand Temperature: 
515°F
Surface Type: 
Not Recommended For Sensitive Metals
| Qty: | Price: | Savings |
| --- | --- | --- |
| 1 | $228.05 | |
| 5 | $221.21 | Save 3% |
| 10 | $214.37 | Save 6% |
| 30 | $200.68 | Save 12% |