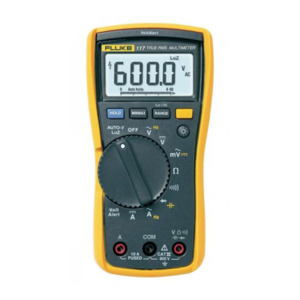 Estimated Mfr lead time:
21 Days
Description

Specifications

Documents
Fluke 117 Multimeter Key Features
Large 6000-count display with white backlight
True-RMS VoltAlert for non-contact voltage detection
AutoVolt for automatic AC/DC voltage selection
LoZ prevents false readings due to *ghost voltage*
Current to 20A (30 sec., 10A cont.)
Capacitance 1nF to 9,999 µF
Frequency 0.01 Hz to 50 kHz
Min/Max/Average Resistance, continuity, diode /li>
CAT III 600 V safety rated
TL75 Hard point test lead set included
3 Year Warranty
The Fluke 117 has the features and functions professional electricians need to get their job done. The Fluke 117 is the ideal meter for demanding settings like commercial buildings, hospitals and schools. The compact design makes it easy to hold and use one-handed. Integrated VoltAlert™ Technology allows testing for non-contact voltage directly from the meter to help get the job done faster. LoZ technology prevents false readings due to *ghost voltage* and helps accurately diagnose problems. Rely on the Fluke 117 to make your everyday measurements – up to 600 volts ac or dc, 40 MΩ, diode test and exceptionally fast continuity.
Fluke 117: Compact digital multimeter designed for electricians
The Fluke 117 Electricians Multimeter is a compact, CAT III 600 V, True-rms meter that includes an easy-to-use interface with a bright backlight for darker worksites. It saves you time and enables you to move from job to job more quickly. With a quick turn of the dial you can get measurements for:
Resistance
Continuity
Frequency
Capacitance
Min/Max/Average
Note: Fluke does not include a calibration certificate with these meters.
Alternate Product Number: 
2538815
Display Digits: 
6,000 Count
Battery Life: 
400 hours typical, without backlight
Safety: 
IEC 61010-1: Pollution Degree 2 IEC 61010-2-033: CAT III 600V
Estimated Mfr lead time:
21 Days