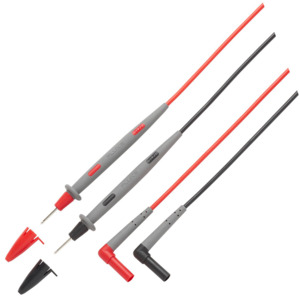 Description

Specifications

Documents
The Fluke TL71 Premium Multimeter Test Lead Set is a pair of comfort grip probes (red and black) with flexible silicone-insulated, right-angle test leads. These distinctive comfort grip probes are heat and cold resistant.
As with all Fluke products, these test leads undergo a battery of safety tests to be rated at:
CAT II 1000 V, 10 A rating
CAT III 1000 V, CAT IV 600V with protective cap
The WearGuard™ test lead indicator shows wear and tear easier. It exposes a contrasting color when the leads are damaged and need to be replaced. Silicone-insulated leads have superior flexibility in cold temperatures and resistance to high temperatures.
The Fluke TL71 Premium Test Leads are compatible with all instruments that accept standard 4 mm (0.16 in) shrouded banana connectors. Some of the compatible tools include:
Fluke 902 FC True-RMS HVAC Clamp Meter
Fluke 87V Industrial Multimeter
Fluke 115 Field Technicians Digital Multimeter
Fluke 787B ProcessMeter™
UL listed
One year warranty
One pair (red, black) comfort grip probes with silicone insulated, right-angle test leads