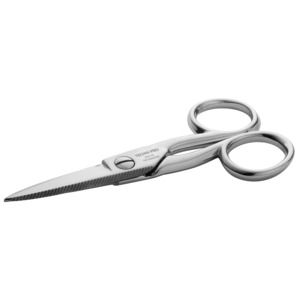 | Qty: | Price: | Savings |
| --- | --- | --- |
| 1 | $18.55 | |
| 5 | $17.62 | Save 5% |
| 10 | $17.44 | Save 6% |
| 25 | $17.25 | Save 7% |
| 100 | $17.07 | Save 8% |
| 500 | $16.51 | Save 11% |
Description

Specifications

Documents
Double stripping notches
Our products under the brands Techni-Tool, Tec-Cut, Techni-Stat, and many others have merged to one brand, Techni-PRO. All the product specifications and functionality remain the same.
The Techni-Pro 396N-50 are ProCut scissors with strong blades, designed for heavy-duty use applications. The notch on the blade is specifically designed for stripping wires. The scissors are equipped with a scraper and file on the outside of both blades. The Carbon Steel provides hard and stiff blades to perform cuts. The Nickel coating improves the chemical resistance. The blades are hardened.
Blade Type: 
Double Stripping Notched, Smooth
| Qty: | Price: | Savings |
| --- | --- | --- |
| 1 | $18.55 | |
| 5 | $17.62 | Save 5% |
| 10 | $17.44 | Save 6% |
| 25 | $17.25 | Save 7% |
| 100 | $17.07 | Save 8% |
| 500 | $16.51 | Save 11% |