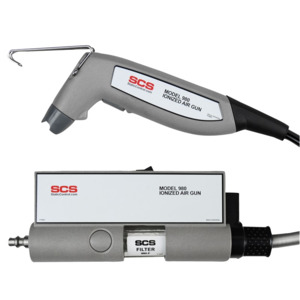 | Qty: | Price: | Savings |
| --- | --- | --- |
| 1 | $1,076.36 | |
| 2 | $1,022.54 | Save 5% |
| 3 | $1,001.01 | Save 7% |
| 5 | $990.25 | Save 8% |
Description

Specifications

Documents
Point-of-Use Compressed Air Ionizer
Fast <1 Second Discharge
Ergonomic / Modular Design
Self-Balancing
Use Filtered Air or Nitrogen - no adjustment required
Console Mounting Hardware Included
NIST Calibrated with Certificate Inlcuded
Made in China
Excellent tool for blowing particulate contamination off any surface. Releases a balanced stream of compressed ionized air that neutralizes the static charge that can hold particulates to a surface. Discharge time from ±1000V to 100V is less than 1 seconds at 6".
Compact and lightweight, the console for the SCS Ionized Air Gun can be mounted almost anywhere on the workstation for easy access. It connects to a supply of clean, dry air or nitrogen, and an internal disposable filter collects particles from the gas supply. The electrical feed from the console to the Ionized Air Gun is incorporated into the light, flexible air hose. The Ionized Air Gun itself is very lightweight and ergonomically designed for long-term user comfort and efficient operation. The console, Ionized Air Gun, and air hose are all designed to be static-dissipative and ESD-safe.
The Ionized Air Gun helps reduce a static charge of ±1000V to ±100V in less than 1 second at a distance of 6 inches (15 cm) and 30 psi (2 bars) inlet pressure when tested in accordance with the ESD Association ionization standard ANSI/ESD-S3.1. Balance (offset voltage) is within ±30V at a distance of 6 inches (15 cm).

Includes: 
Gun Hose, Wall Transformer, Console, 10' RJ-11 cable, Mounting Plate, Filter Assembly, Hose Connector
Ionizer or Blower Type: 
Gun
| Qty: | Price: | Savings |
| --- | --- | --- |
| 1 | $1,076.36 | |
| 2 | $1,022.54 | Save 5% |
| 3 | $1,001.01 | Save 7% |
| 5 | $990.25 | Save 8% |