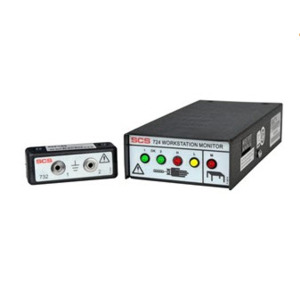 Estimated Mfr lead time:
14 Days
| Qty: | Price: | Savings |
| --- | --- | --- |
| 1 | $251.05 | |
| 3 | $245.78 | Save 2% |
| 5 | $241.26 | Save 4% |
| 10 | $238.50 | Save 5% |
| 20 | $233.48 | Save 7% |
Description

Specifications

Documents
Single workstation continuous monitor
Meets ANSI/ESD S20.20 in accordance with ESD TR1.0-01-01
Audible and visible alarms indicate improper grounding of the operator and worksurface
Adustable operator test voltage and upper limit
Includes operator's resistance in test circuit
Simple installation and set-up, mounting hardware and wire management clips are included
North American power adapter included
NIST calibrated

Monitors, operator resistance: system uses a dual conductor wrist strap cord to include the operator's resistance in the test circuit are functioning properly. Resistor bypass warning: If the current limiting resistors are bypassed a yellow light flashes. Dual grounding path: Dual conductor system provides redundant ground paths with an effect similar to wearing two wrist straps. This means that your product is not exposed to ESD-even if one conductor fails. Monitor work surface: Work station monitor also checks its own connection to ground, and the grounding of a work surface, (part no. 126-454 is needed to ground mat with monitor). Optional stand-by jack (Model 3057) allows operator to unplug the wrist strap when leaving the station, without activating the alarm. Optional dual remote splitter (Model 733) allows monitoring of two operators working at two separate stations or surfaces. Operates on 120VAC and comes complete with dual conductor jack, power supply, hardware, and instructions. Wrist straps and cords not included. Monitor can only be used with the wrist straps and cords listed below. Designed to work with SCS static-disipative mats: 3-layer vinyl 8200 series and 2-layer rubber 8800 series.

Estimated Mfr lead time:
14 Days
| Qty: | Price: | Savings |
| --- | --- | --- |
| 1 | $251.05 | |
| 3 | $245.78 | Save 2% |
| 5 | $241.26 | Save 4% |
| 10 | $238.50 | Save 5% |
| 20 | $233.48 | Save 7% |