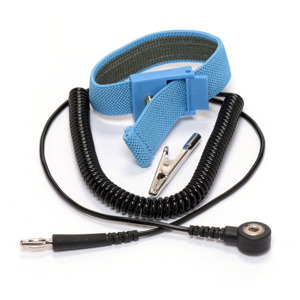 Estimated Mfr lead time:
10 Days
Description

Specifications

Documents
Our products under the brands Techni-Tool, Tec-Cut, Techni-Stat, and many others have merged to one brand, Techni-PRO. All the product specifications and functionality remain the same. •Meets or exceed the requirements of ANSI ESDS20.20 and ESDA Standard 1.1-2006

Antistatic wrist straps are designed to safely ground stationary operators working with ESD sensitive components, preventing a build-up of static electricity.
The 360° curved wrist band and coil cord set features hypoallergenic silver-plated nylon thread for conductivity. The band is standard with a 4mm male snap.
The cords 2.5mm polyurethane coil insulation offers excellent coil memory. A swivel type banana jack increases coil life and prevents cord tangles.
The soft, blue woven fabric and curved buckle of the wrist band allows the skin to breathe and makes it very comfortable to wear.
The wrist band uses hypoallergenic silver-plated nylon thread for conductivity and has a maximum resistance of 160 ohms.
Material: 
Polyester with conductive copper sulfide nylon
Type: 
Wrist Strap, with Grounding Cord
Cord and Snap Included: 
Yes
Includes Wrist Strap: 
Yes
Wrist Strap and Ground Cord Included: 
Yes
Estimated Mfr lead time:
10 Days