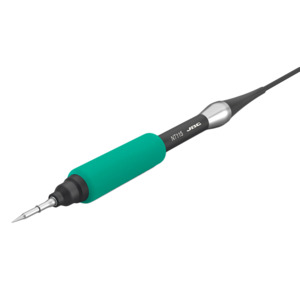 | Qty: | Price: | Savings |
| --- | --- | --- |
| 1 | $105.00 | |
| 10 | $101.85 | Save 3% |
| 20 | $99.75 | Save 5% |
| 50 | $94.50 | Save 10% |
| 100 | $92.40 | Save 12% |
Description

Specifications

Documents
The JBC Tools NT115-A is a NANO handle soldering iron that works exclusively with the JBC NASE-C and NANE-C soldering stations; as well as the JBC C115 soldering tip series.
This soldering iron from JBC Tools is the smallest in size and offers the highest precision while soldering SMD components. It features a soft grip which offers a comfortable feel while using and ensures that the operator's fingers will not slide down the iron. Additionally, this iron offers users the option to replace the grip of the iron from wear and tear.
The Nano C115's short-distance tip-to-grip provides greater manual control of the tool and is designed to work with extremely small surface mount components, including 0402, 0201 and 01005. The grip also offers a soft and comfortable feel and prevents the fingers from sliding down. The handle saves time and allows cartridges to be changed safely without having to switch the station off.

Cable Length: 
27.2" (12m)
For Use With: 
NASE-1C and NANE-1C stations. C115 Cartridge Range.
Dimensions: 
4.06" x 0.55" x 0.55"
Typical Use: 
High-Precision
| Qty: | Price: | Savings |
| --- | --- | --- |
| 1 | $105.00 | |
| 10 | $101.85 | Save 3% |
| 20 | $99.75 | Save 5% |
| 50 | $94.50 | Save 10% |
| 100 | $92.40 | Save 12% |