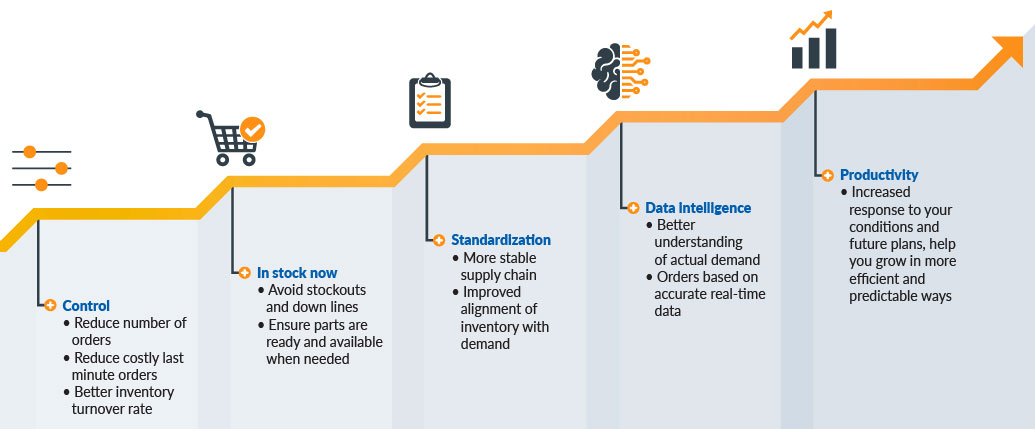 TestEquity Inventory Management Benefits
WHAT YOU WILL GET... Real Savings
Purchasing savings: Cut just one purchase order for the entire contract period.
Freight savings: Consolidation of weekly shipments eliminates freight expenses on individual shipments.
Product savings: pre-negotiated pricing and quantities save you money on each order.
Production savings: Avoid downtime due to stock-outs and late deliveries. Reduce requisition cost by automating your ordering process. Replenish in just minutes!
Personnel savings: Free up your employees to handle more business-critical tasks.
Improved Process Control
Reliable data intelligence: Real-time reporting with an employee tracking feature for better forecasting and planning.
Process standardization: Getting everyone to use the company-approved ordering method just got easier.
Dedicated customer service: Help with products, pricing and more are just a phone call away. Your local account manager is always available for in-facility consultations, product demonstrations and technical support.
Product Standardization: Allows for the issue of only company-approved products ensuring quality and consistency
Supply Chain Partner
Convenience of ordering all consumables through one process & partner
Access to the largest on hand inventory and product assortment selection in the industry
Support and technical expertise from our industry-specific, national, field-sales Experts.