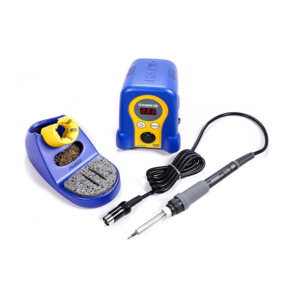 | Qty: | Price: | Savings |
| --- | --- | --- |
| 1 | $121.47 | |
| 3 | $119.04 | Save 2% |
| 5 | $117.83 | Save 3% |
| 10 | $115.40 | Save 5% |
Description

Specifications

Documents
Digital calibration
Low temperature alarm
Adjustable temperature soldering station
Digital display shows °F or °C
Temperature range 120°-899°F (50°- 480°C)
Ceramic heating element
Fast thermal performance and recovery
Maintains idle temperature within ±1.8°F (± 1°C) when set to 400°-899°F (200°-480°C)
Password protected temperature setting functionality
Preset mode allows you to store up to 5 preset temperatures
Slender, lightweight, ergonomic handpiece
Compact design takes up less bench space
Wide selection of tips available for through-hole and SMD
Use with Hakko T18 series tips
ESD Safe Add-ons for the FX-888D
For SMD work, you can use the Hakko FX8804-CK SMD Hot Tweezers Kit or FX8804-02 SMD Hot Tweezers only Note: Station available in blue and yellow color only (all other colors shown on Hakko.com are not available in North America)
The FX-888D Digital Soldering Station from Hakko is the updated, digital version of the popular FX-888 and includes several new features-digital calibrations to simplify the setup and operation, new password protection, 5 preset temperature storage, and compact design takes up less workbench space.



Alternate Product Number: 
FX888D, FX-888D, FX888D 23BY, FX888D23BY
Includes: 
Power supply, FX8801-02 solder iron, T18-D16 solder tip, FH800-01BY iron holder, A1559 cleaning sponge, A1561 tip cleaning wire, B3466 calibration tool.
Temperature Range: 
400-899°F
Dimensions: 
3.9 x 4.7 x 4.7"
Operating Temperature: 
400-899°F
Temperature Accuracy: 
±1.8°F
| Qty: | Price: | Savings |
| --- | --- | --- |
| 1 | $121.47 | |
| 3 | $119.04 | Save 2% |
| 5 | $117.83 | Save 3% |
| 10 | $115.40 | Save 5% |