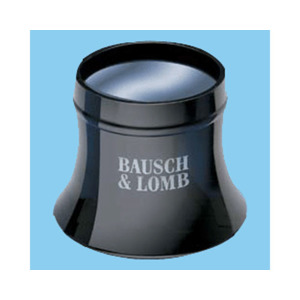 | Qty: | Price: | Savings |
| --- | --- | --- |
| 1 | $11.92 | |
| 20 | $11.68 | Save 2% |
| 50 | $11.32 | Save 5% |
| 100 | $10.73 | Save 10% |
Description

Specifications
The Bausch & Lomb 4x Watchmakers Loupe is a high-quality loupe that will make your work easier.
It has an optical quality glass and a precision molded design to fit over your eye lids.
The lightweight loupe offers optimal clarity with its 4X magnification power.
The 16D diopter allows you to see small objects up close.
This precision lens is made of molded glass, which ensures the highest level of clarity and flatness for distortion free viewing.
You can adjust the focal distance from 2.5 in to 6.4 cm, allowing you to have a clear view no matter what size object you are working on.
If you want a watchmaker's loupe that provides excellent magnification, opt for this Bausch & Lomb Loupe today.
Watchmaker's Loupes are lightweight, glass magnifiers that are available in a complete range of powers.

Series: 
Watchmaker's Series
Type: 
Watchmaker's Loupes and Accessories
| Qty: | Price: | Savings |
| --- | --- | --- |
| 1 | $11.92 | |
| 20 | $11.68 | Save 2% |
| 50 | $11.32 | Save 5% |
| 100 | $10.73 | Save 10% |