ILM Tool PB1 General Purpose Point-to-Point Audible Continuity Tester with Leads and Alligator Clips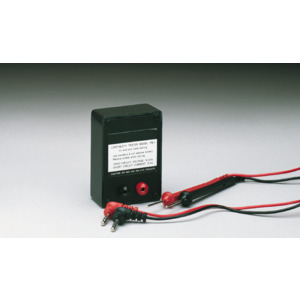 ILM Tool PB1 General Purpose Point-to-Point Audible Continuity Tester with Leads and Alligator Clips
Mfr Part #PB1
Condition:New
Estimated Mfr lead time:
16 Days
Description

Specifications
Clear audible signal over background noise
Impact-resistant molded case
Probe voltage of 9V
Short circuit current of 5mA
No high current surges
This tester gives a clear audible signal on point-to-point continuity and is suitable for Go/No-Go tests for wires, cables, LEDs, switches, diodes, transistors, etc. Comes complete with test probes and detachable alligator clips. Operates on a 9V battery (not included). Measures 3-1/2" x 2-1/2" x 1-1/4". Optional RS232 (Part No. 124-252) test-lead adapter is available. It fits over test probe end, and has male and female RS232 pins to allow testing of computer cables.

Estimated Mfr lead time:
16 Days